Non-Profit Health System Solves Disconnect With Patient Referrals
Organization Type
Non-profit Health System
Geographic Region
Southwest
Organization Size
6 hospitals
400+ physicians
50+ specialties
serving a patient population of over 1 million
Pressed for Time?
Watch the video to the right and get this content in 30 seconds — then come back for a deeper dive by scrolling to the full version below. Or let our AI concierge, Haxall, know you would like to download a pdf version of this case study so you can review it at a later time.
Non-Profit Health System Solves Disconnect With Patient Referrals
THE CHALLENGE
A southwestern non-profit health system was experiencing incongruities in patient demand and scheduling volumes. Therapists and physicians were not being fully utilized resulting in major gaps in their schedules. At the same time, patients were complaining of having to wait long periods before being scheduled for follow-up care.
THE DISCOVERY
The discovery process revealed a lack of standardization in the area of patient referrals. The health system did not have the tools or workflows necessary to execute an effective outreach strategy. Patient follow-up was sporadic at best without the proper technology or personnel resources. Proactive patients were calling to schedule themselves, often weeks after their referral was made, while others either sought care elsewhere or not at all. Failures in the referral process were negatively impacting physician and patient sentiment as well as patient outcomes and revenue.
THE SOLUTION
Envera Health partnered with the health system to solve the disconnect with patient referrals. The partnership included the necessary technology, such as auto dialing tools, to perform effective outreach and a freshly built workflow that standardized the referral process. Envera's solution includes a dedicated team of Patient Access Coordinators (PACs) to execute outreach efforts, removing the need for extensive training or additional burden on internal staff and minimizing uptime.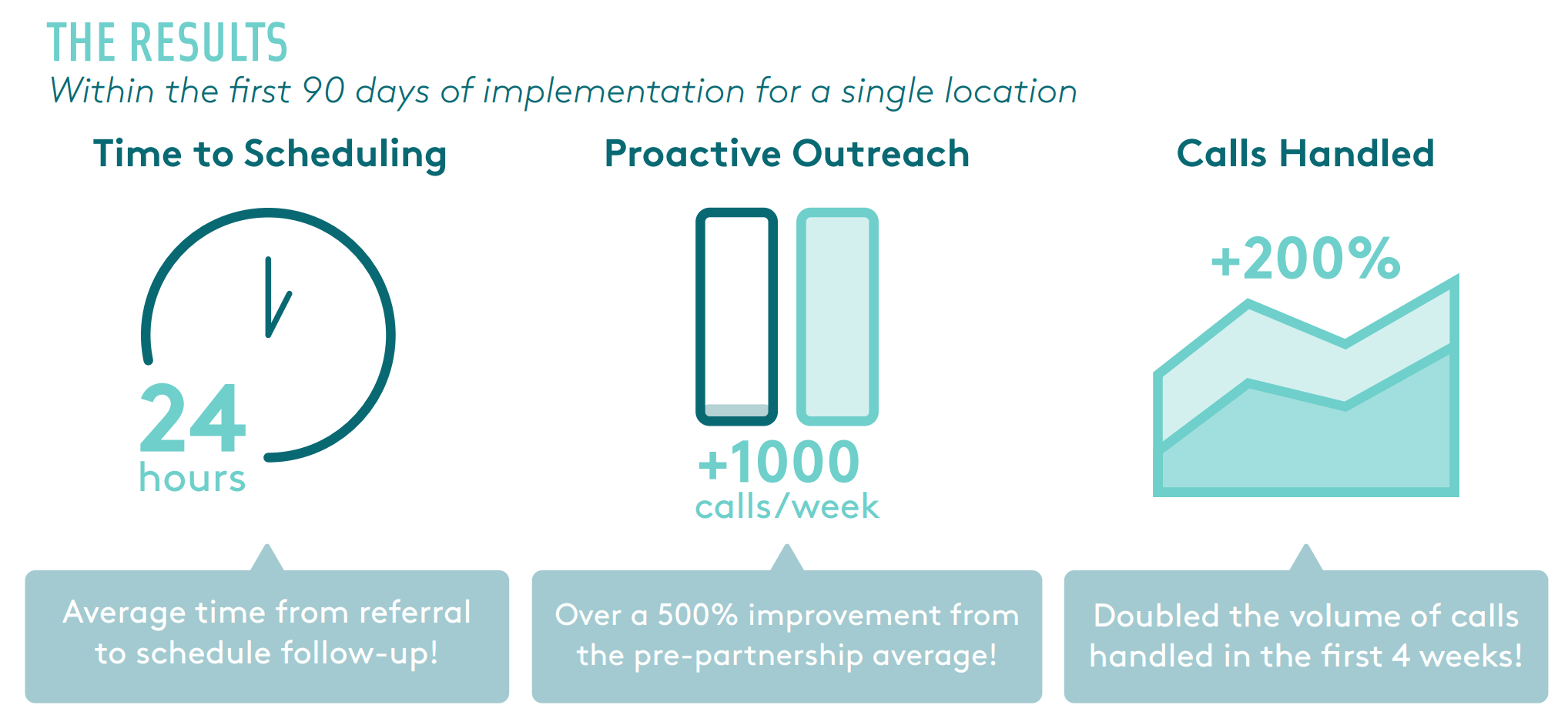 The Envera approach includes an in-depth discovery process that studies the physicians and processes unique to your organization to develop a fully customized engagement solution.
About Envera Health
Envera Health provides comprehensive engagement partnerships for healthcare organizations seeking to transform the patient experience and simplify the care delivery process. Supported by a unique CRM-driven engagement center, we other a complete suite of patient engagement solutions custom-designed to improve operational efficiency and enable steady growth.