Large Health System Picks Up Patient Access Experience
Organization Type
Health System
Geographic Region
Mid-Atlantic
Organization Size
35+ hospitals
3000 physicians
25+ specialties
serving a patient population of over 10 million
Pressed for Time?
Watch the video to the right and get this content in 30 seconds — then come back for a deeper dive by scrolling to the full version below. Or let our AI concierge, Haxall, know you would like to download a pdf version of this case study so you can review it at a later time.
Large Health System Picks Up Patient Access Experience
THE CHALLENGE
Meeting access needs for one growing eastern health system and its patient population, which spanned several states, had proved difficult to scale. There was a significant drop-off in the quality of the patient access experience reflected by unusually high call abandonment rates. Additionally, the health
system struggled to create a cohesive brand experience across its vast number of office locations.
THE DISCOVERY
The discovery identified several pain points in the patient experience. High abandonment rates were likely due to the health system's slow speed to answer inbound calls and excessive hold times. Observing numerous patient interactions, it became apparent that difficulties reaching a live person were often followed by difficulties in schedule management— most scheduling guidelines were out of date. The health system's decentralized approach was creating issues in efficiency and a disjointed brand experience. Additionally, though they had a general perception of patient sentiment, there were no processes in place to measure patient satisfaction.
THE SOLUTION
Envera Health customized a Patient Access solution designed around the specific needs of the health system and its patient population. New technologies, workflows, and updated guidelines were applied alongside a team of dedicated Patient Access Coordinators (PACs). Initially, Envera's management of call volume supplemented the health system's internal resources through an overflow model designed to quickly get control of the patient access experience. After a short time, the overflow model was replaced with a shared queue that provided a more unified brand experience for patients while offering scalability in accordance with the availability of internal resources. In addition to these improvements, new efficiencies created an opportunity to engage in outbound campaigns, including patient satisfaction surveys.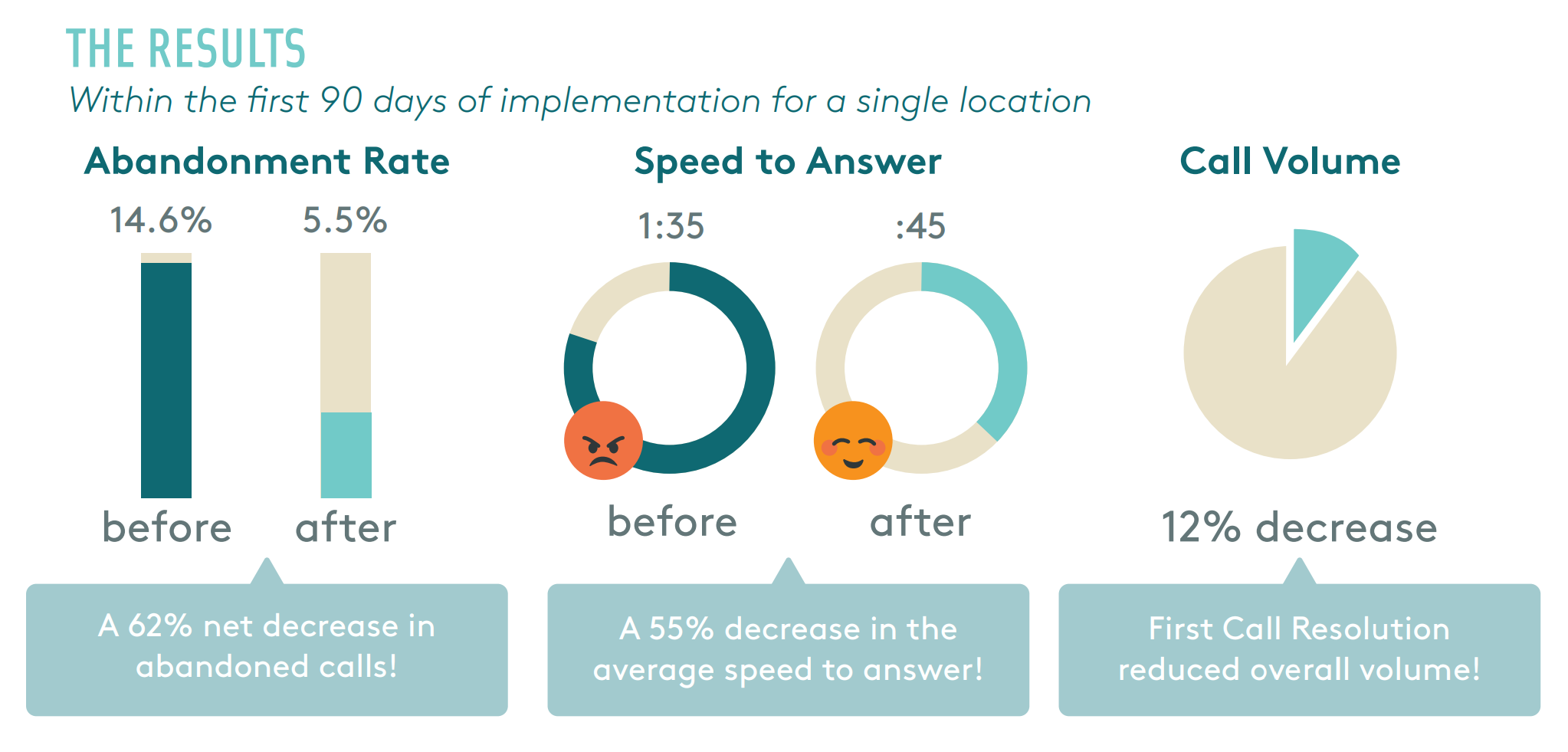 The Envera approach includes an in-depth discovery process that studies the physicians and processes unique to your organization to develop a fully customized engagement solution.
About Envera Health
Envera Health provides comprehensive engagement partnerships for healthcare organizations seeking to transform the patient experience and simplify the care delivery process. Supported by a unique CRM-driven engagement center, we other a complete suite of patient engagement solutions custom-designed to improve operational efficiency and enable steady growth.