Large Health System Phones In A Superior Patient Experience
Organization Type
Health System
Organization Size
8 hospitals
1000 physicians
60+ specialties
serving a patient population of over 500k
Pressed for Time?
Watch the video to the right and get this content in 30 seconds — then come back for a deeper dive by scrolling to the full version below. Or let our AI concierge, Haxall, know you would like to download a pdf version of this case study so you can review it at a later time.
Large Health System Phones In A Superior Patient Experience
THE CHALLENGE
A large midwestern health system faced reputational harm from the impact of patient complaints. They were experiencing an uptick in no-show appointments, patient volumes that did not reflect the current market demand, and a churn rate (percent of calls to scheduled appointments) nearly double the national average. Additionally, precious time with physicians was being wasted fielding complaints about administrative services.
THE DISCOVERY
A Press Ganey survey pointed to issues in the patient access experience related to long hold times and difficulty navigating the phone tree. Further discovery revealed a high abandonment rate alongside of extenuating factors contributing to a poor access experience. Primarily, the decentralized nature of the health system's scheduling was to blame. With no centralized point of contact, patients were pushed from office to office explaining the unusual rate of no-shows and abandonment— patients would opt-out of a long wait to carrying out simple tasks such as canceling or rescheduling appointments. Additionally, the Patient Service Representatives (PSRs) responsible for answering the phones were unduly burdened by staff shortages, making it nearly impossible to provide a high level of patient care both in-person and on the phone.
THE SOLUTION
By implementing Envera Health's Patient Access solution, the health system and its patients could benefit from a centralized one-touch approach, mitigating the confusing phone tree minimizing transfers and multiple calls for unrelated services. At the heart of this approach is a dedicated team of Patient Access Coordinators (PACs), trained to adopt the health systems internal workflows and mirror their values. This helped to improve the patient experience by establishing a consistent focus on care culture at every step of the patient journey. Additionally, with the support of a PAC team, PSRs were able to provide greater attention to in-person service.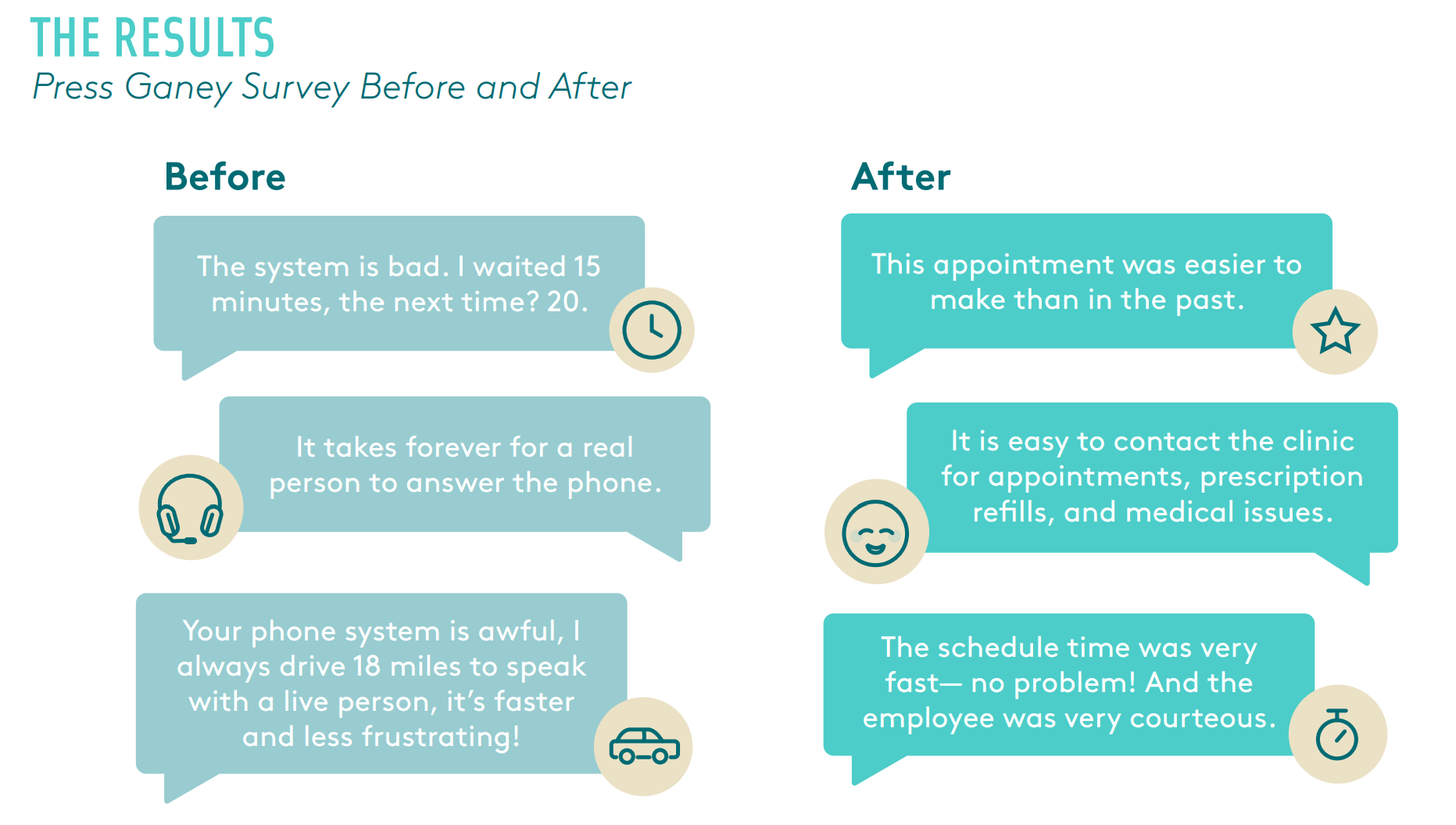 The Envera approach includes an in-depth discovery process that studies the physicians and processes unique to your organization to develop a fully customized engagement solution.
About Envera Health
Envera Health provides comprehensive engagement partnerships for healthcare organizations seeking to transform the patient experience and simplify the care delivery process. Supported by a unique CRM-driven engagement center, we other a complete suite of patient engagement solutions custom-designed to improve operational efficiency and enable steady growth.