Large Health System Hangs Up High Abandonment Rate
Organization Type
Health System
Organization Size
8 Hospitals
1,000 Physicians
60+ Specialties
serving a patient
population of over 500k
Pressed for Time?
Watch the video to the right and get this content in 30 seconds — then come back for a deeper dive by scrolling to the full version below. Or let our AI concierge, Haxall, know you would like to download a pdf version of this case study so you can review it at a later time.
Large Health System Hangs Up High Abandonment Rate
THE CHALLENGE
The unusually long call hold times were negatively impacting patient access for this large midwestern health system. With abandonment rates of more than 20%, individual offices were experiencing a high volume of no-shows, low scheduling rates, and negative feedback from patients at the time of service.
THE DISCOVERY
The discovery process identified the two primary factors responsible for the extraordinarily long waits on hold. First, staffing issues were putting an undue burden on Patient Service Representatives (PSRs) who were responsible for answering the phones. Additionally, patient access for the organization was decentralized, complicating patients' efforts to establish contact with the proper department. Combined, these factors resulted in a large volume of calls being transferred or going straight to voicemail which, in turn, further burdened PSRs and contributed to a negative patient experience.
THE SOLUTION
Envera Health's Patient Access solution was implemented centralizing the patient access process. With a team of dedicated Patient Access Coordinators(PACs), patients could not only receive immediate assistance but resolve several requests, across several departments, with the same PAC on the same call. This one-touch approach cut back significantly on the need to transfer and helped to boost scheduling volume through more efficient patient engagement. The implementation of a dedicated Patient Access team lifted the burden of calendar management and routine inquiries from PSR staff freeing them to provide better service on-site— resulting in an across-the-board improvement of the patient experience.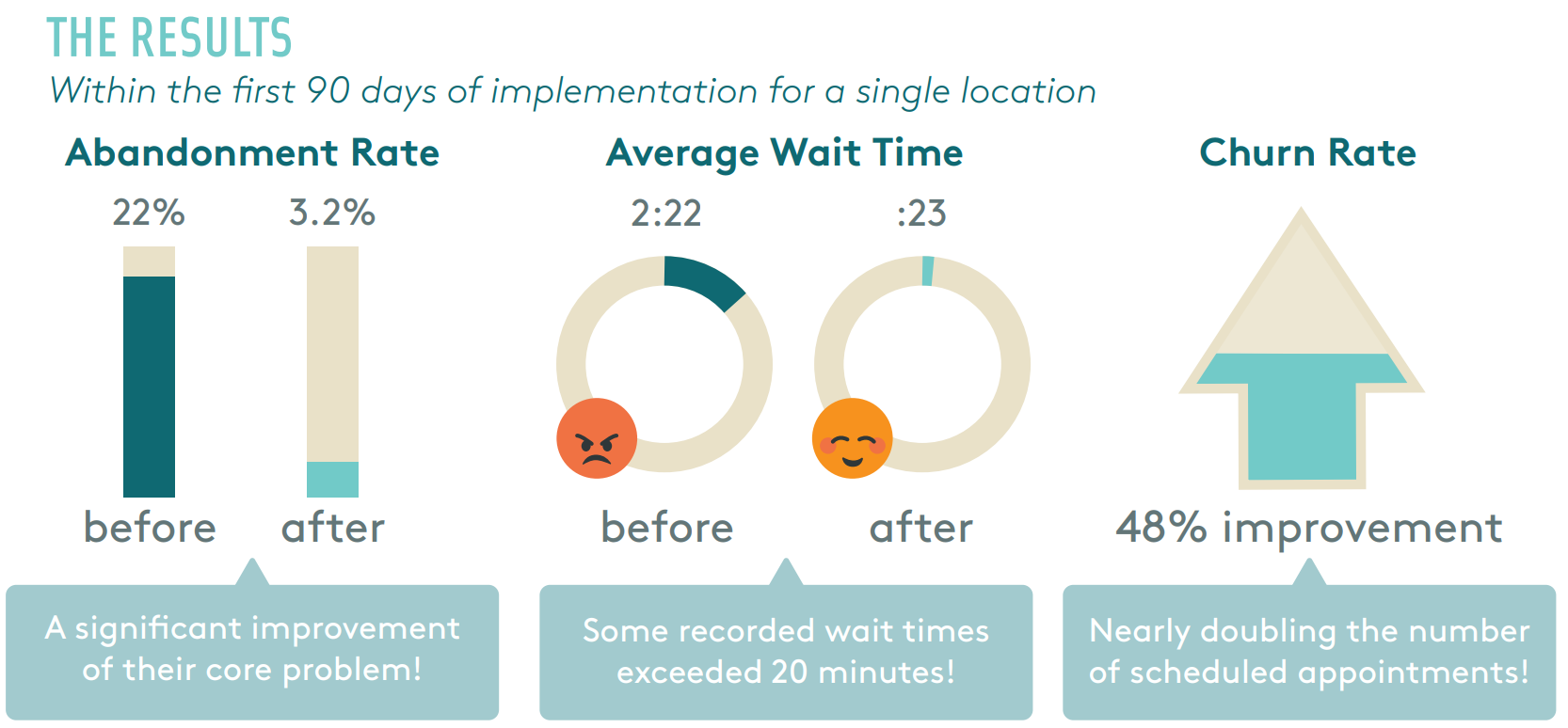 The Envera approach includes an in-depth discovery process that studies the physicians and processes unique to your organization to develop a fully customized engagement solution.
About Envera Health
Envera Health provides comprehensive engagement partnerships for healthcare organizations seeking to transform the patient experience and simplify the care delivery process. Supported by a unique CRM-driven engagement center, we other a complete suite of patient engagement solutions custom-designed to improve operational efficiency and enable steady growth.