Healthcare Call Center: DIY or Buy?
An In-depth Comparison of Call Center Builds and Vendor Relationships
Pressed for Time?
Watch the video to the right and get this white paper content in under 5 minutes— then come back for a deeper dive into our findings by scrolling to the full version below. Or let Haxall know you would like to download a pdf version for later."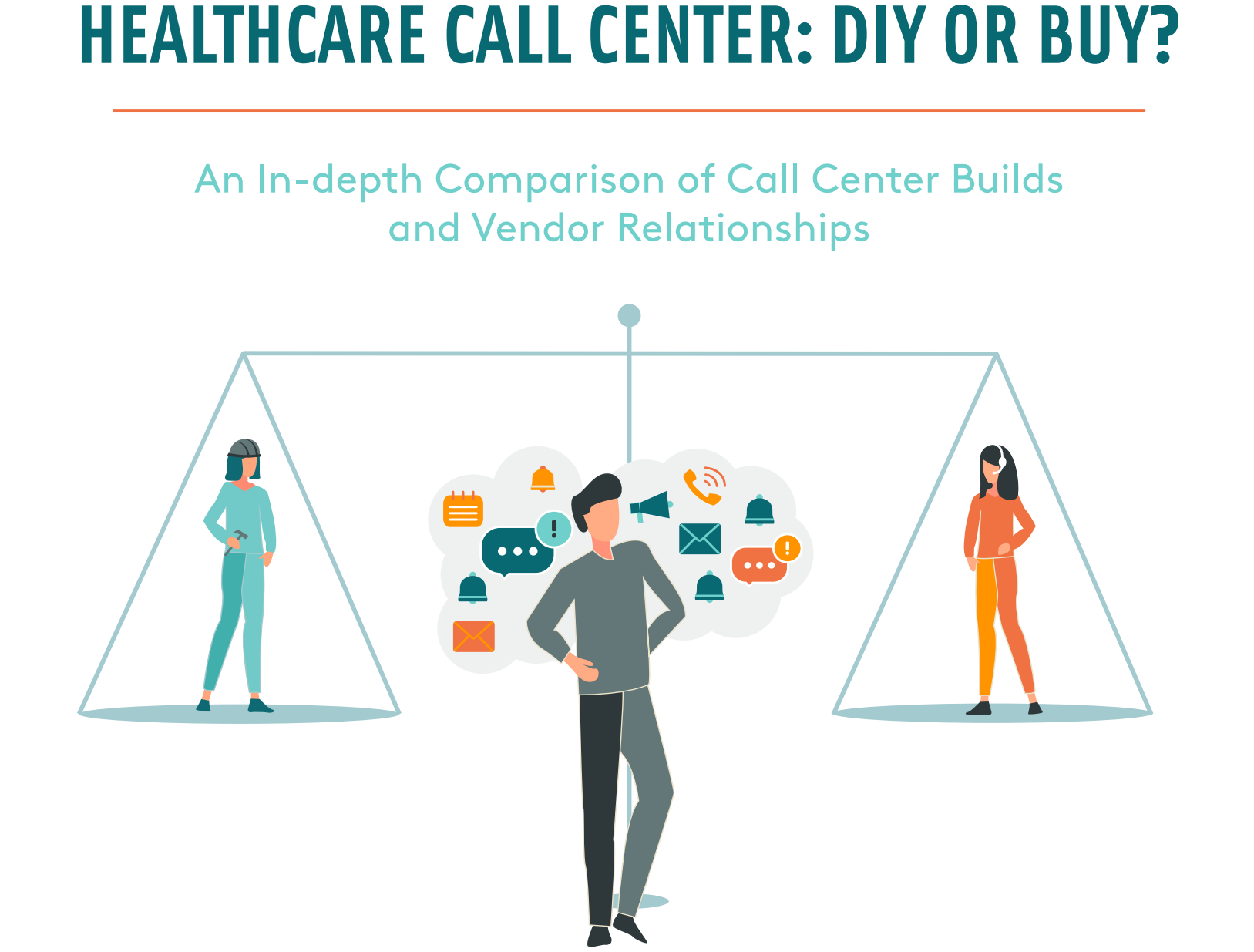 Abstract
Improving access is a critical responsibility that challenges every practice, service line, and health system. In the face of today 's labor market, margin constraints, and overall patient demand, determining how to ensure broader access is no easy task. Factors such as "cost," physician preferences, and practice independence often frame this as a more complex choice than it needs to be: the pressing need for better access quickly renders all other considerations irrelevant. While taking into account what is best for patients, you cannot ignore the realities of managing access. Poorly executed access often creates a burden on operations and exacerbates existing problems, particularly in the realm of staffing and technology infrastructure, resulting in poor ROI and worse—a negative impact on your patient community. At the center of this is the decision to manage the logistics of answering incoming calls and fluctuating patient demands internally or with an outsourced partnership. This paper aims to explore the realities of "DIY or Buy?"
Part One: Technology and Infrastructure
Healthcare call centers require a variety of technology and infrastructure in order to simply function. The most basic of which includes a myriad of software, from workforce management and CRMs to data management and integration on top of telephony. Proper investment in the right systems is critical to operations, it requires careful consideration and planning in a tech space that is saturated with options. According to a recent Nemertes study, the annual licensing for call center technology alone is nearly $4,000 per employee. Additionally, many organizations don't anticipate that most necessary technologies come with vendor relationships. Vendors must be carefully selected (and relationships maintained) to ensure continuity as it is easy to get fixed on upfront service costs and fail to consider the cost of failed service agreements or scalability.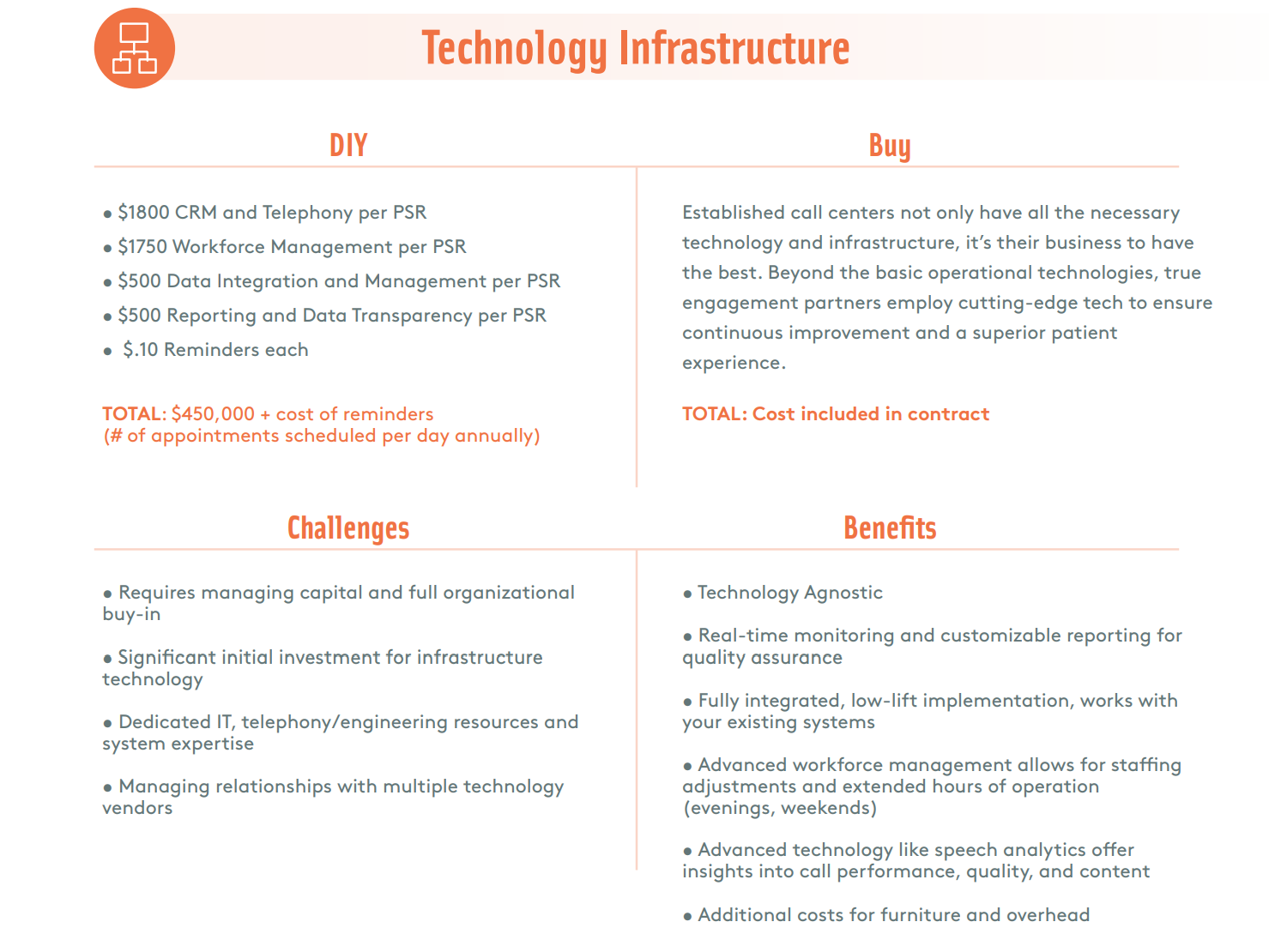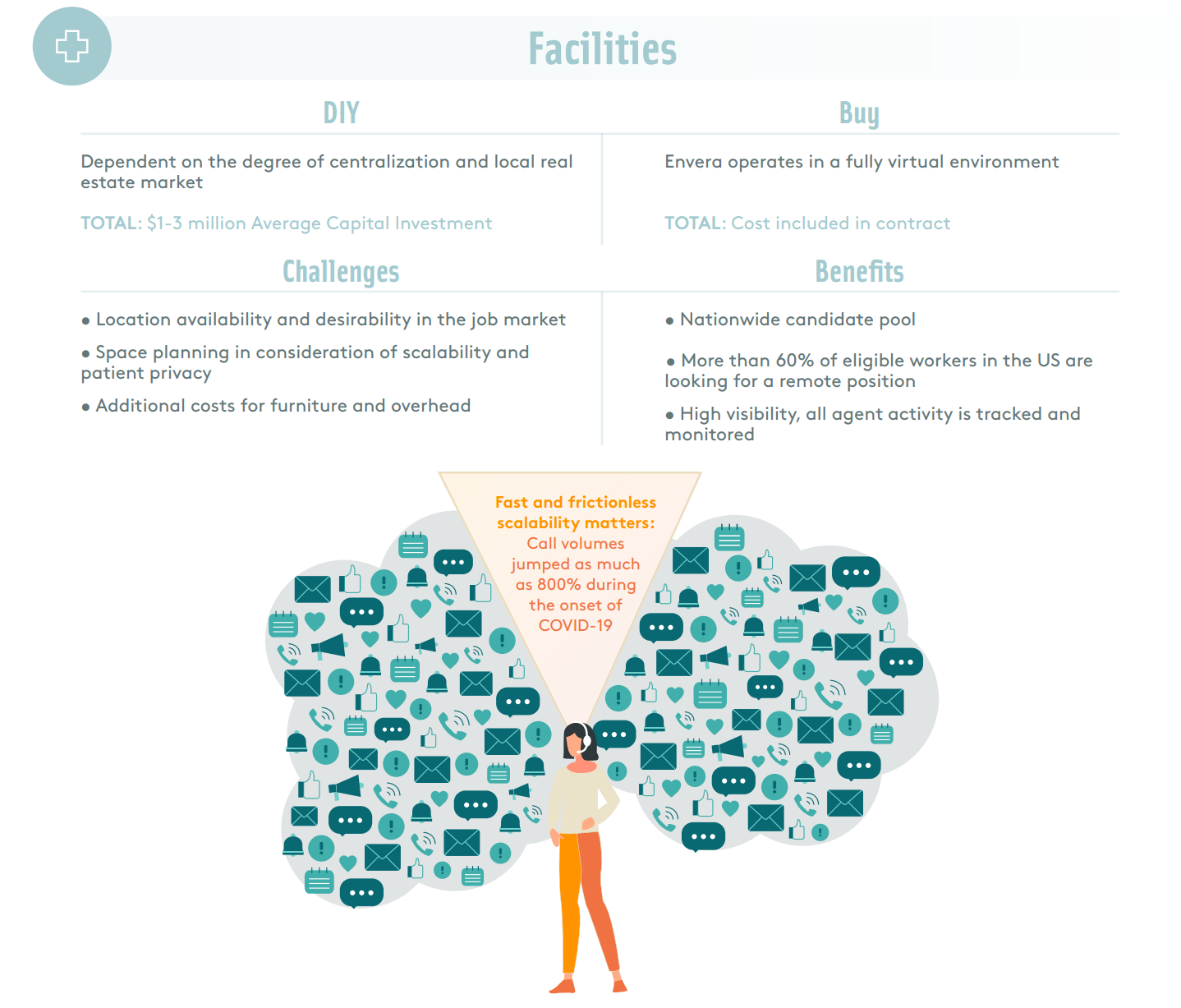 Many health systems know their operational costs for patient access and are fully capable of managing those needs
with an internal call center but the role of technology is often a costly after thought. Call center technology rapidly evolves so it can be difficult to avoid service delays or reductions in quality from a simple failure to keep pace with the latest communication trends. Often this is the biggest strain on health systems trying to scale to meet the new demands of today 's consumer-minded patient community. Additionally, technologies with deep analytics, comprehensive monitoring, and reporting capabilities as well as quality assurance technologies, such as speech analytics or other performance tracking applications, must not be overlooked in the initial build as they are essential to generating revenue and ensuring ROI.
Part Two: Personnel
Staffing is arguably the most important (and most expensive) par t of call center operations. Great care must be taken to recruit and train patient access coordinators that can be trusted with representing your organization and maintaining a high standard of service that ensures patient loyalty. Aside from your essential patient access staff, super visors, HR, and auxiliary expenses should be factored into the overall labor cost. Additionally, turnover for call centers is high, over double that of other industries at 30-45%, and the cost of onboarding and training can quickly add up to impact profitability with per agent estimates for training ranging between $10,000 and $15,000.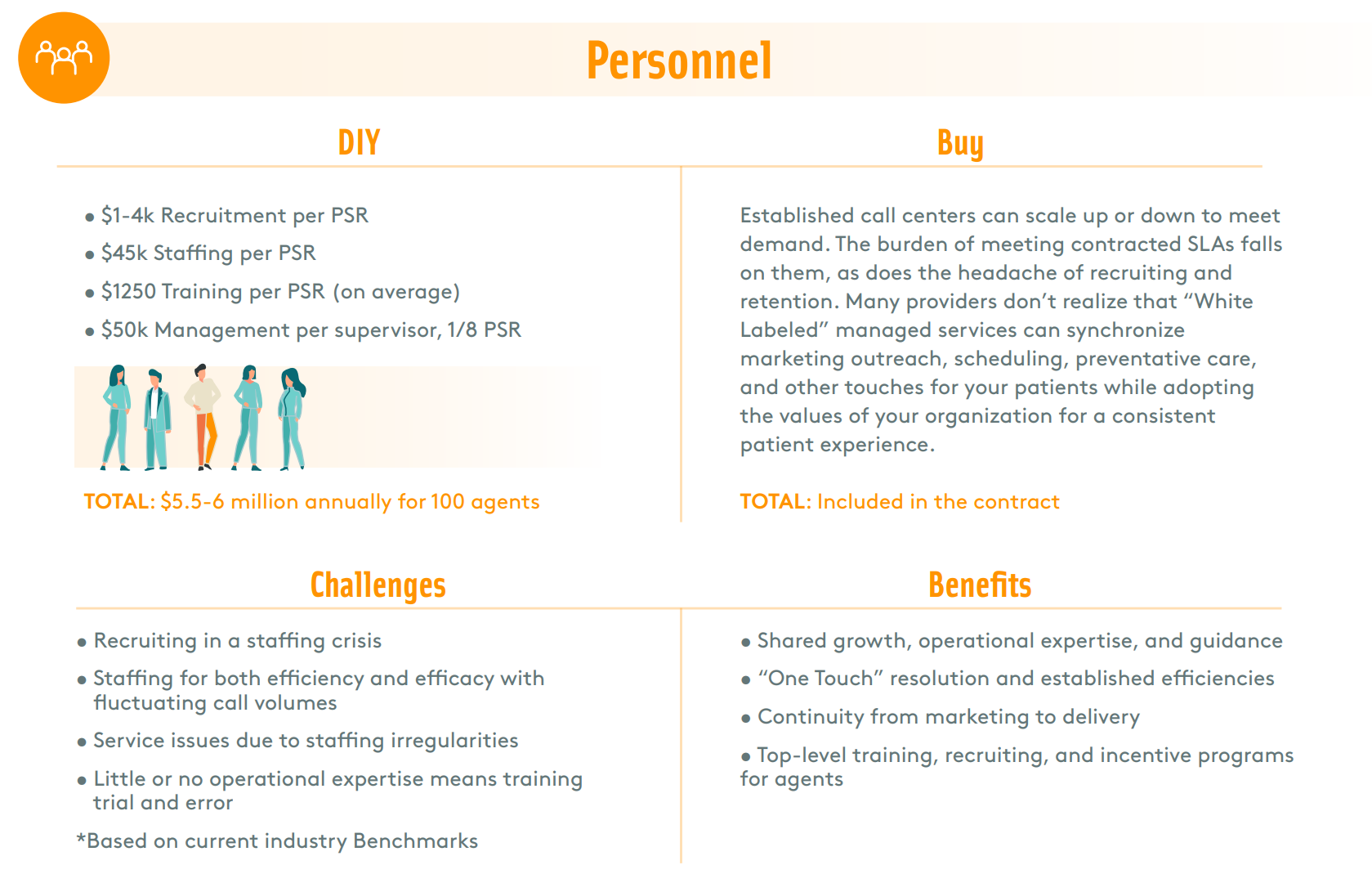 When considering the costs of labor for an internal call center it's easy to think of agents in terms of calls handled or seats filled— this is a mistake. Patient access staff has a critical role in the patient journey capable of influencing each interaction with your organization that follows. Coordinators must operate well under pressure to execute sometimes complicated workflows while engaging patients in a way that reflects care culture, guiding the conversation, getting the information necessary for treatment, and being on alert for a potential medical emergency at the same time. Despite the growing popularity of self-service technologies, healthcare will never be able to replace the impact of a human touch which is why staffing a healthcare call center is so burdensome.
Did you know
The average hourly rate for a call center employee us $15 an hour, though actual hourly costs per employee are closer to $35 an hour when the cost of HR, management, and operational technologies are included.
Part Three: Other Considerations
Beyond personnel, technology, and basic infrastructure, there are many other considerations that factor into the true cost of an internal build. Any setback can impact the bottom line and, ultimately, the ability of your call center to be profitable. Here are a few common examples of unforeseen challenges that can rapidly contribute to ROI, in contrast with how they can be managed through a third-party service provider.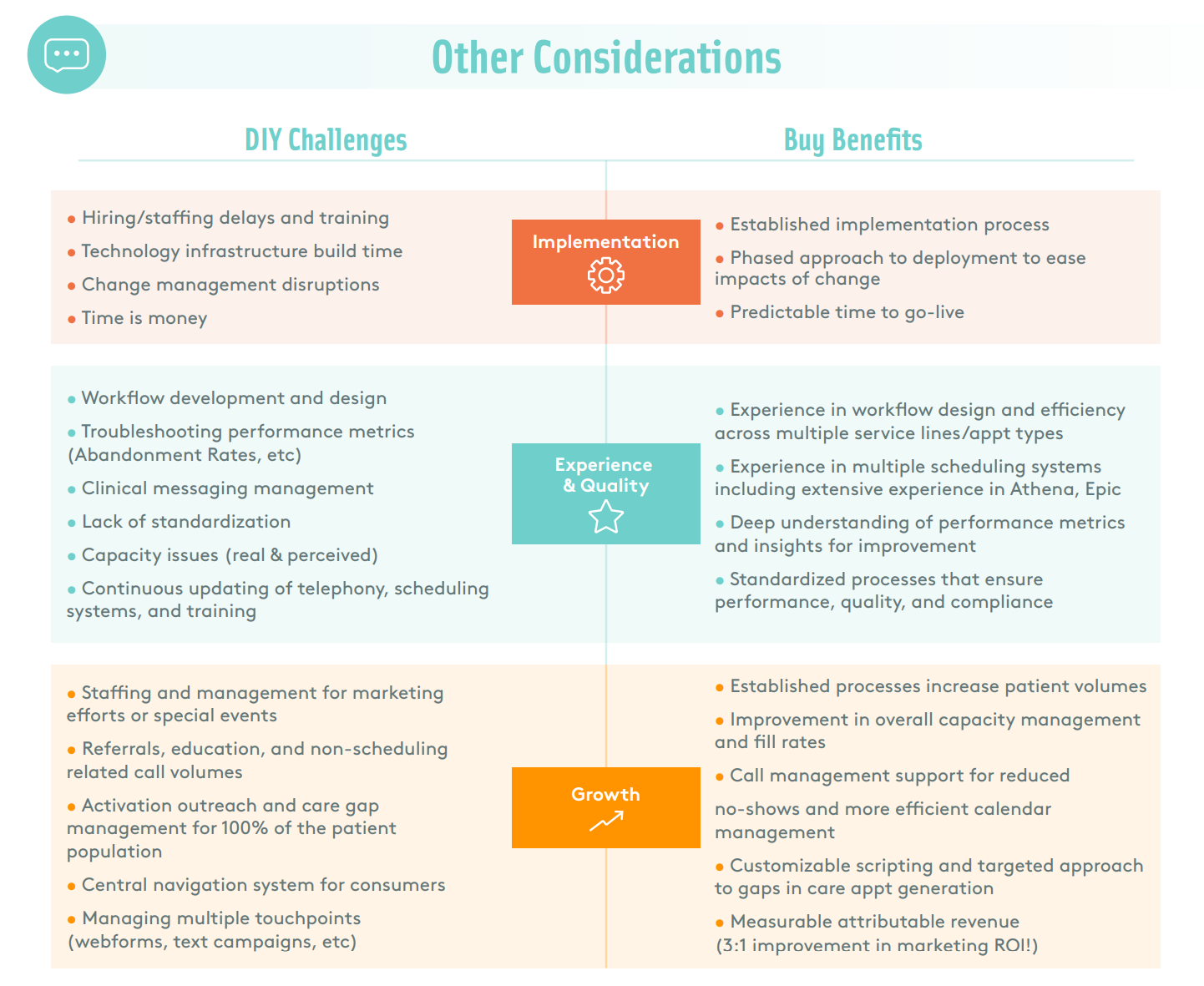 The healthcare call center plays a critical role in the continuity of your health system, from revenue to patient outcomes. A profitable call center takes time and a bit of finesse but understanding which technology investments will yield the best results, how to build lasting infrastructure, and who are the right people to extend care culture over the phone is best accomplished by experience.
Conclusion
Patient access is a critical first step, not just in the patient journey but also in the revenue process. When executed properly, a healthcare call center can boost scheduling volumes, improve patient sentiment, and ensure continuity for your health system. With stakes this high, it's easy to see why many providers assume the only way to guarantee their patient population in managed correctly is to do it themselves. But this approach often overlooks the reality of call center operations, resulting in a greater burden on the health system and poor ROI.
This high-level over view only scratches the sur face of how costly and complicated operating a healthcare call center can be. Not surprisingly, many providers don't realize this until it's already too late; providers should be able to focus on top-of-license care deliver y not becoming experts in call management or contact center operations. Supplementing internal efforts through a comprehensive engagement partnership with an established,
industry-specific call center can assist you in your mission of improving access, meeting the challenges of evolving patient demands while delivering a better patient experience so you can focus on your core objective—providing superior patient care.
Sources:
1. Gareiss, R. (2020, July 27). A look at Contact Center technology and support costs. Retrieved August 16, 2022, from
https://www.techtarget.com /searchcustomerexperience / tip /A-look-at-contact-center-technology-and-support-costs
2. Parker, K., Horowitz, J. M., & Minkin, R. (2022, March 23). Covid-19 pandemic continues to reshape work in America. Pew Research Center's Social & Demographic Trends Project. Retrieved August 16, 2022, from https://www.pewresearch.org /social-trends /2022/02/16/covid-19-pandemic-continues-to-reshape-work-in-america /
3. Pindrop. (2021, December 9). Pindrop Pulse Flash Report: Five insights of COVID-19 in the contact center. Pindrop. Retrieved August 16, 2022, from https://www.pindrop.com /blog /flash-report-five-insights-of-covid-19-in-the-contact-center
4. Kiesewetter, J. (2021, September 22). Call center turnover: How to eliminate employee attrition costs. Replicant. Retrieved August 16, 2022, from https://www.replicant.ai /blog /call-center-turnover-how-to-eliminate-employee-attrition-costs
5. Cutting Edge Information. (2017, March 21). Average cost of training new medical information call center agents tops $16,000. GlobeNewswire
News Room. Retrieved August 16, 2022, from https://www.globenewswire.com /news-release /2017/03/21/1181311/0/en /Average-Cost-of-Training-New-Medical-Information-Call-Center-Agents-Tops-16-000.html
6. Indeed: Call Center Strategies. Job Search. (2022). Retrieved August 16, 2022, from
https://www.indeed.com /career/call-center-representative /salaries
About Envera Health
Envera Health provides comprehensive engagement partnerships for healthcare organizations seeking to transform the patient experience and simplify the care deliver y process. Supported by a unique CRM-driven engagement center, we other a complete suite of patient engagement solutions custom-designed to improve operational efficiency and enable steady growth.