A Step-by-step Guide to Finding and Implementing Contact Center Support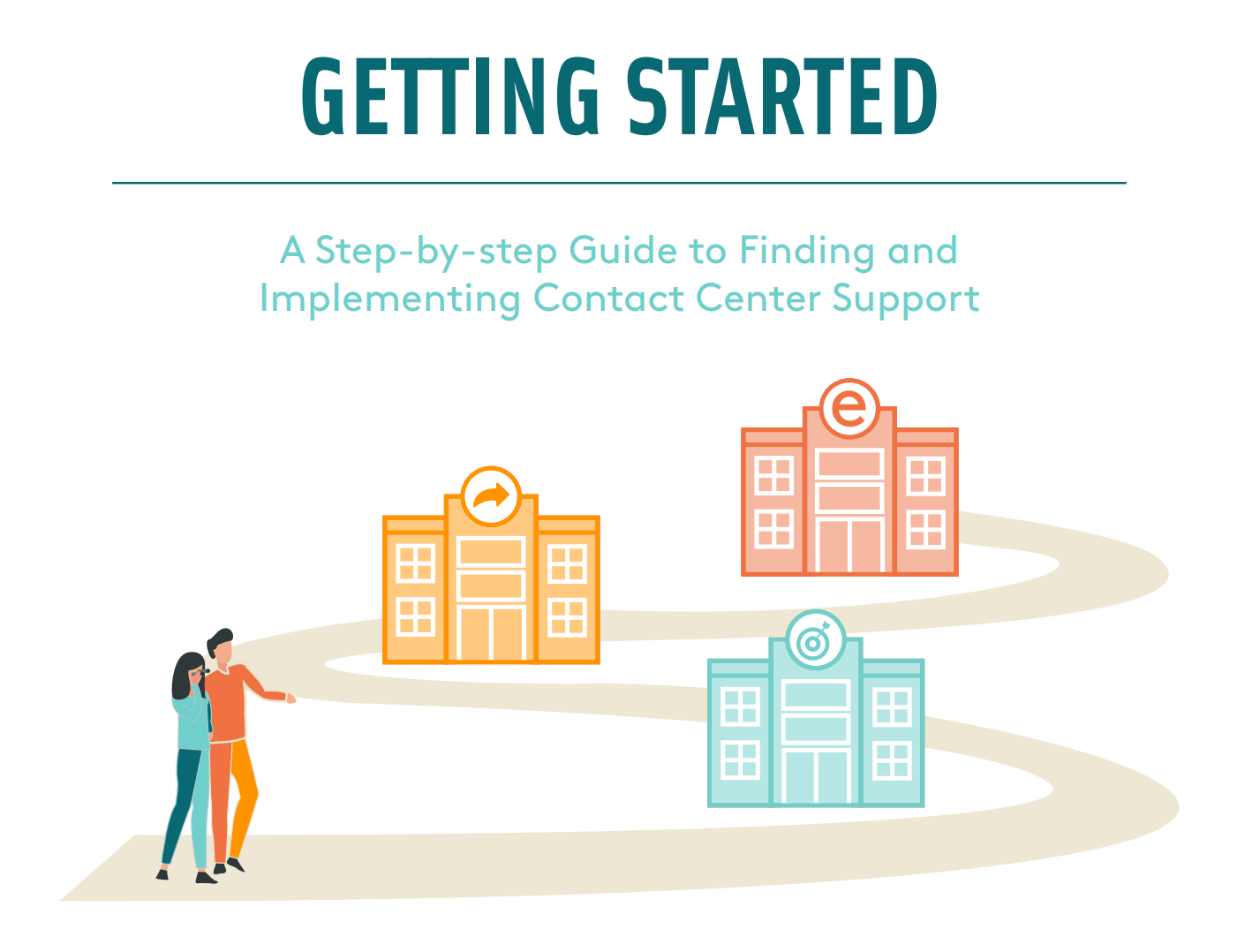 Abstract
The decision to outsource some, or all, of your healthcare call center needs, does not come easily. Once you have determined that employing a third party is the best option for your organization and patient population, you have the difficult task of determining what comes next. In the following paper, we leverage our years of experience assisting health organizations of various models and sizes in implementing customized engagement solutions to identify some of the key considerations for selecting a service model or partner organization and navigating the implementation process that follows.
Part One: Finding Support
Engagement Partner or Call Center Service? What's the difference?
For assisting with patient access needs there are two primary types of service providers: call center services and engagement partnerships. Though many assume it's just semantics, they are quite different regarding service models. To best fit the needs of your practice and avoid confusion or disappointment when it comes to service delivery, it's important to understand the difference.


Identifying Your Need
Depending on the partnership model you chose there are a variety of options for the kinds of tasks that can be outsourced. In the beginning, organizations are often apprehensive about handing over 100% of their patient access needs to a third party, though it can be the simplest solution. Instead, many begin with one or two tasks and slowly add more as they gain confidence in the results. More comprehensive partnerships include scoping that assists you in determining where the pain points are in internal processes, for staff and patients, and what tasks can deliver the best ROI. If you select a more out-of-the-box service, then you will need to develop your criteria for determining ROI or identifying what your in house team is doing well.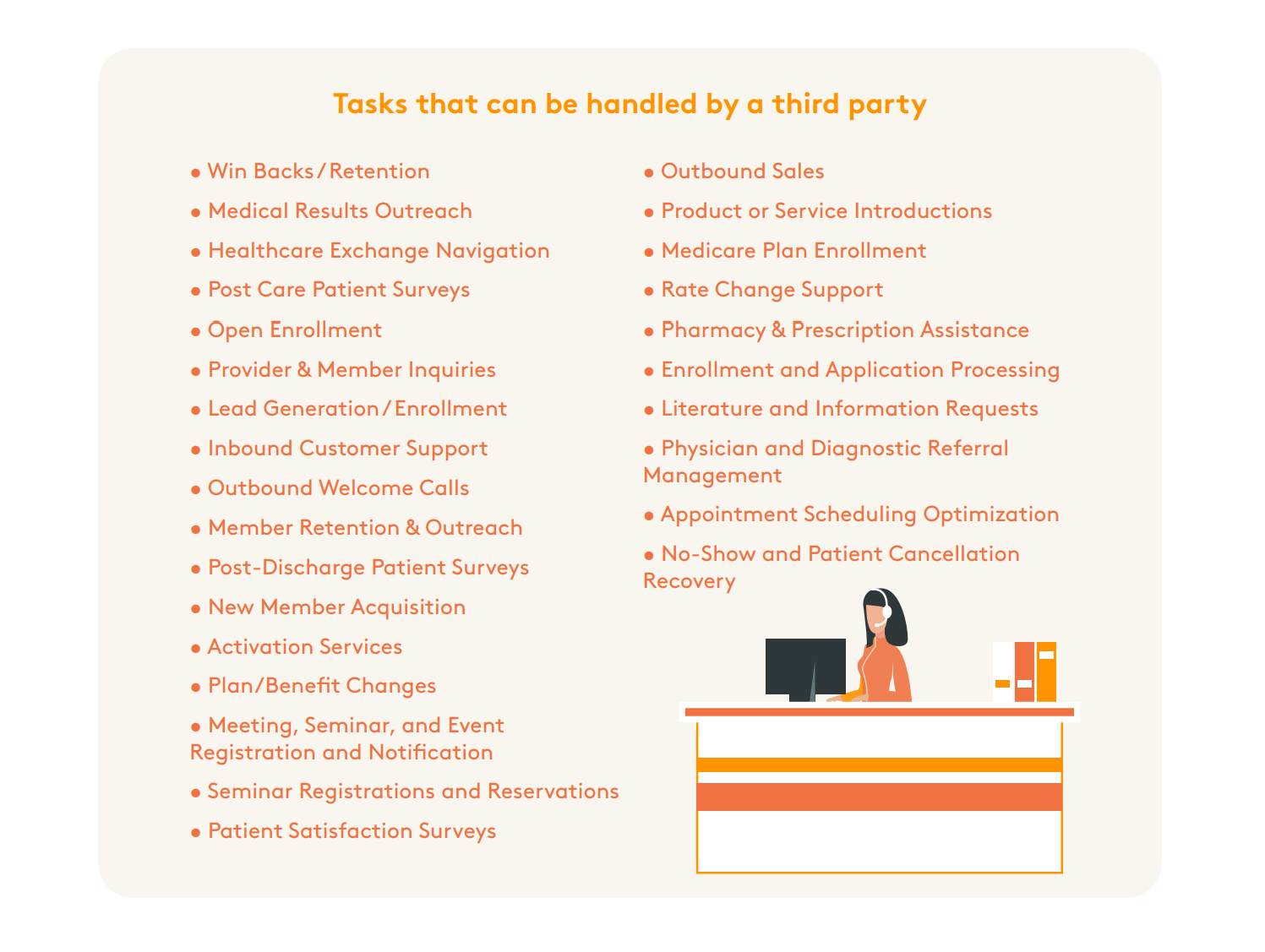 Difference Engagement Models

Outsourced call center services of any kind typically fall into three engagement model types: Full, Shared, or Targeted. There are benefits and downsides to each model and choosing the right model for the needs of your organization can be tricky. Careful considerations should be made concerning the complexity of calls as well as the volumes, or potential future volumes, to minimize the likelihood of disruptions to your practice flow.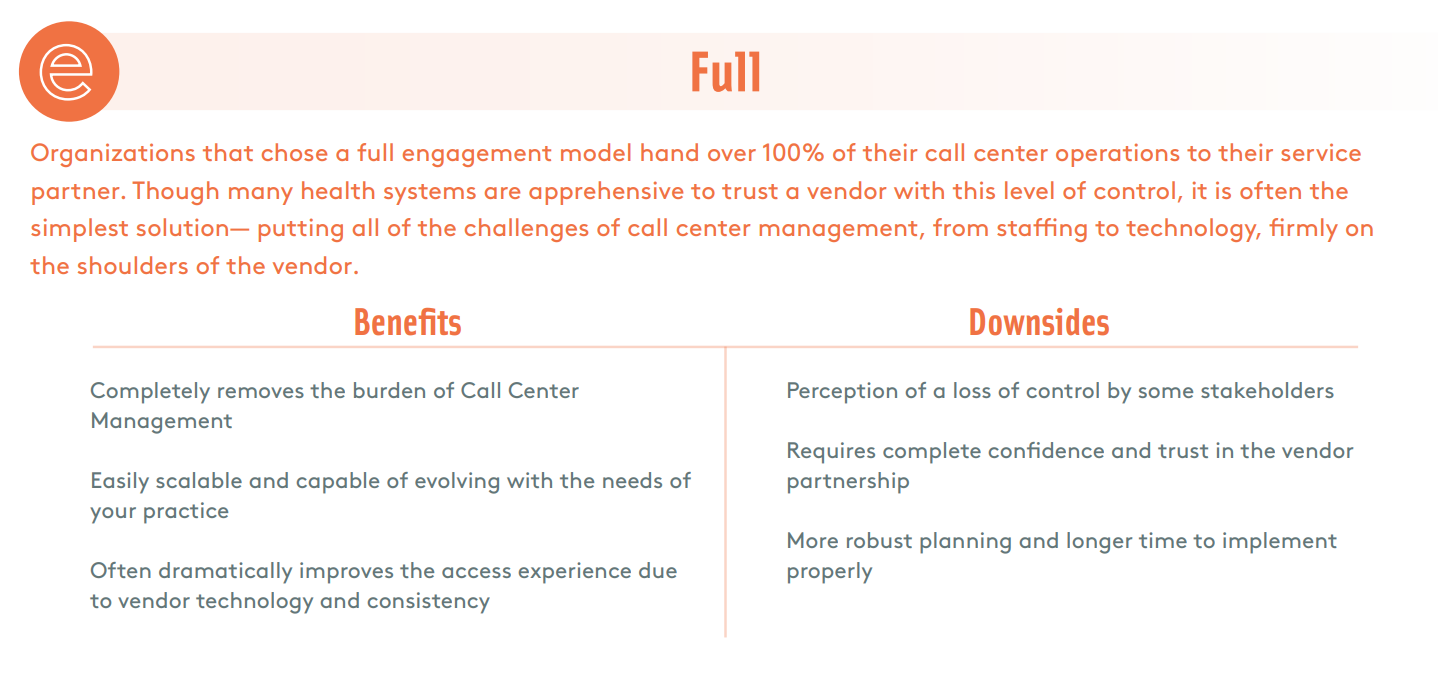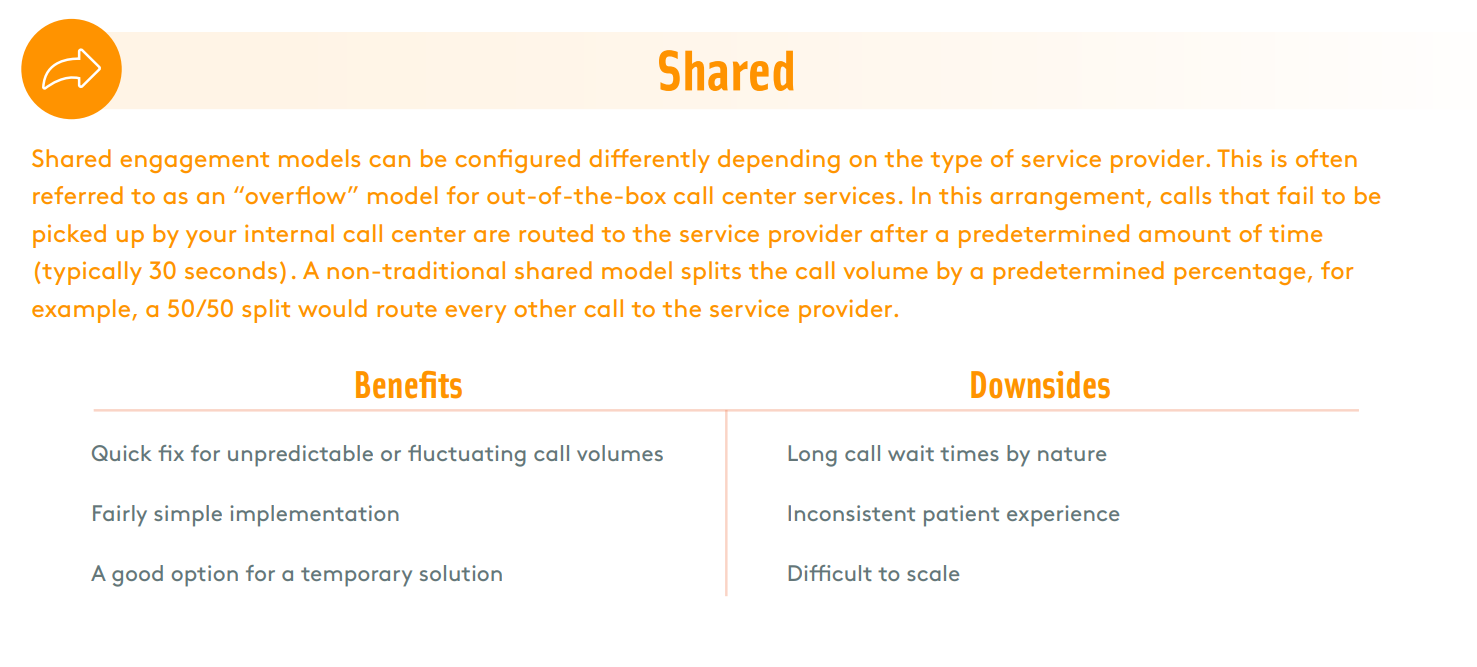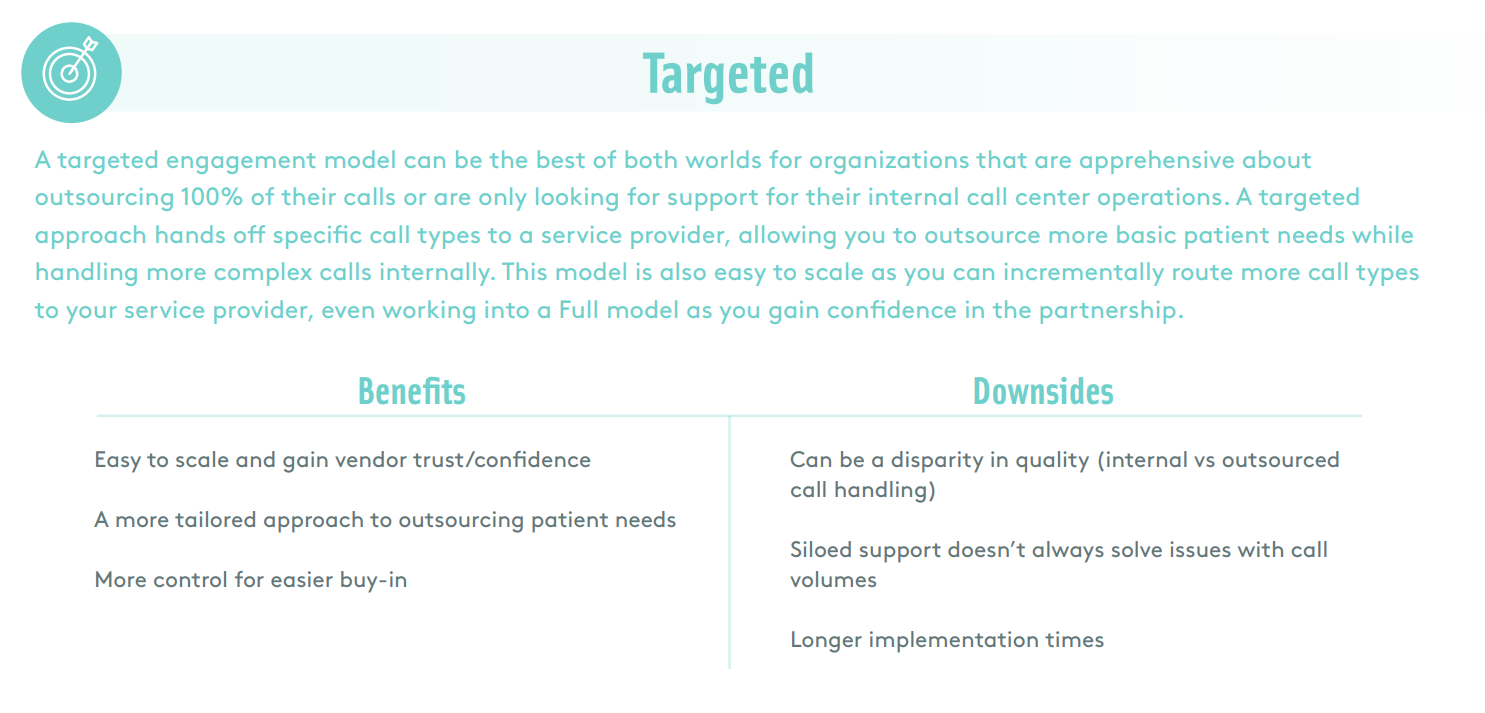 Part Two: Pre-Implementation
Internal Resources
Depending on the service model you chose, the complexity of implementation can vary. Any call center service will typically need access to your internal scheduling platform, EMR, and telephony. In general, IT involvement is not very complex for standard Patient Access Center implementations though this too largely depends on your existing systems and readiness.

Here are a few key points when considering the role of your IT department in the implementation process: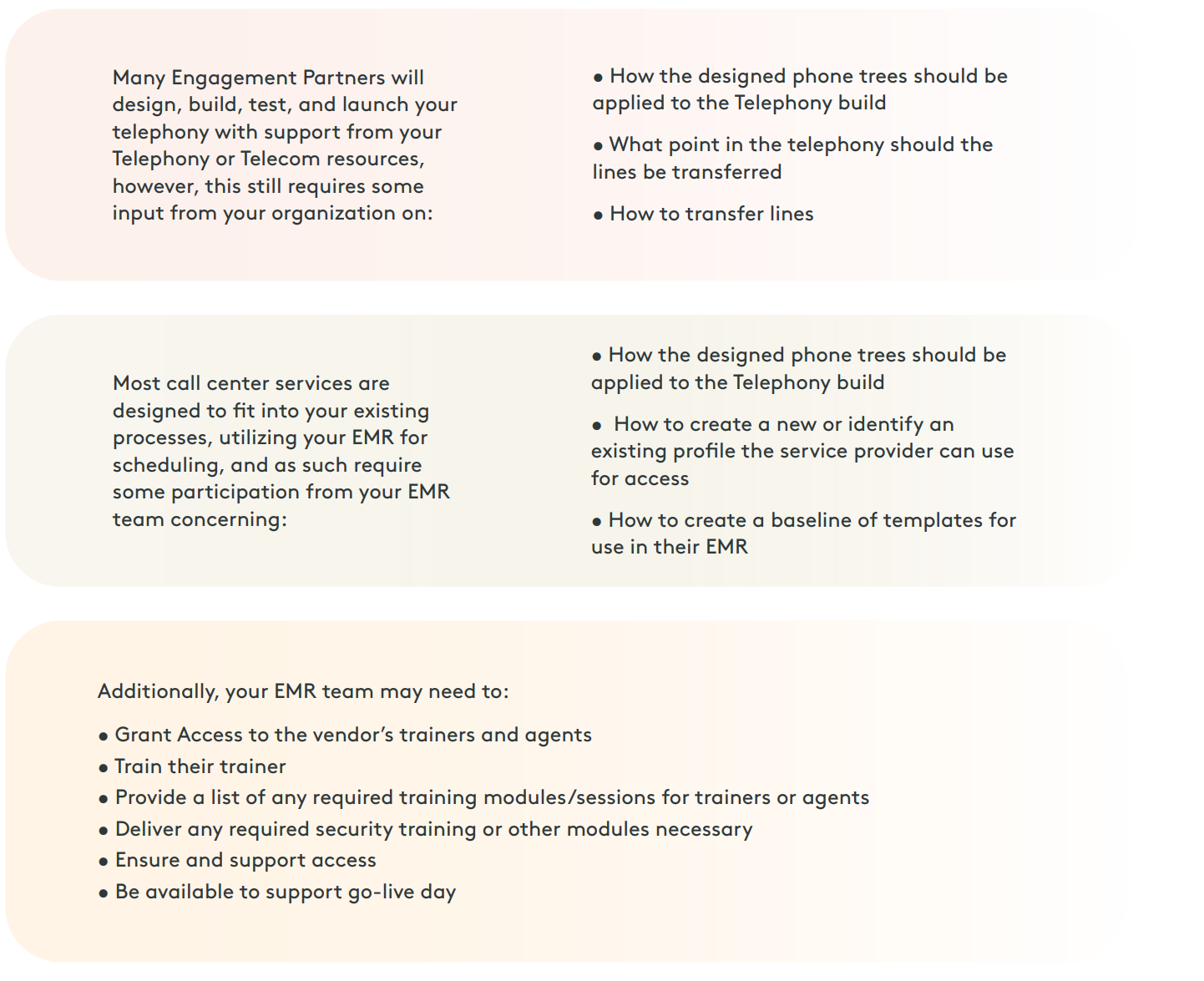 HL7 Feeds

In some instances, and for more comprehensive services, your vendor may recommend an HL7 feed. HL7 integrations can ensure data standardization, automate the sharing process, and improve the ability to provide patient care— for a Patient Access partner they can offer an opportunity to utilize patient data to deliver a more personalized, full-service patient experience. Some of the benefits of providing your engagement partner with an HL7 feed include: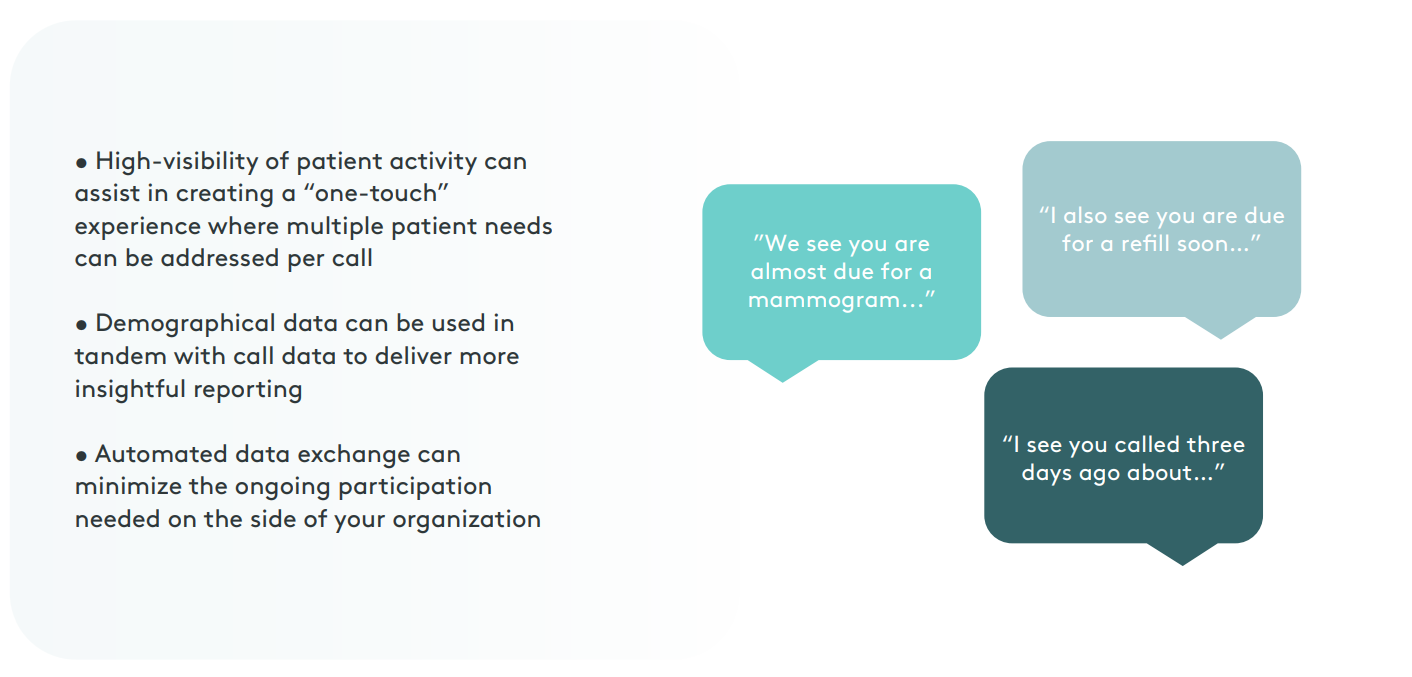 Your organization likely already has HL7 feeds in place, the complexity of adding a new connection for a vendor can vary greatly though it may be possible for them to piggyback off an existing feed and minimize the resources needed for implementation. Connect with your vendor and IT department early to ease the process.

Preparing for Implementation
You can assist in creating a smoother implementation process by preparing the resources needed in advance. This means identifying and connecting with any IT, telephony, training, or system access that will be necessary for patient access services. Additionally, your new service provider will need to review existing documentation or reports such as: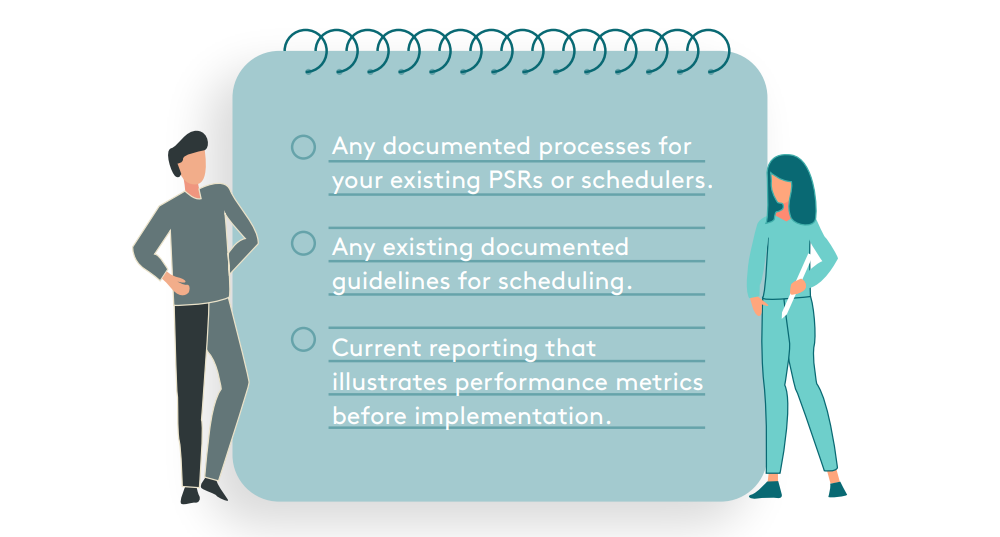 If you do not have established documentation for workflow guidelines or have been operating from a place of "tribal knowledge," then taking the time to start identifying and reviewing these processes can speed up the time to go live and help to prevent challenges down the road. This also helps to ensure a consistent patient experience during the transition to a call center partner. By providing performance metrics you, and your vendor will be able to monitor the results of the partnership and measure ROI.
Collaboration Is Key
You can work through any challenges with good communication and collaboration. An effective engagement partnership will include a variety of support staff such as Team Leads, Supervisors, Customer Solutions Specialists, and Account Managers dedicated to the success of your implementation. Be sure to utilize these resources to the fullest. This means not only gathering the details of your internal processes and guidelines but also offering any materials that illustrate the values and culture of your organization. This allows your vendor to better align services to the experience your patients have come to expect.
Part Three: Implementation
Overview of the Implementation Process

Tips and Tricks From a SAM
We asked our Strategic Account Managers what's the best advice they could give an onboarding client when it comes to the implementation process and here's what they had to say…

Communicate early and often

Start communicating about the new partnership as soon as possible, this will help to ease the transition for staff and patients. While your vendor may have their own resources or "kickoff" material as a part of their onboarding process it will be more effective and better received if it first comes from your organization. Goals for the partnership should be communicated early and often prior to implementation.

Discuss best practices

Every system has its quirks, and no one knows your system better than you. Make sure to discuss best practices so your vendor is well-versed in the idiosyncrasies of your system and how they might impact your workflows. Understanding efficiencies like scheduling templates and waitlist features can greatly improve performance metrics while benefiting patients at the same time.
Trust in our training
Your vendor handles all aspects of staffing, from recruiting to onboarding, so you can trust in their training. An effective engagement partner will have a variety of training resources on hand including a designated expert for your EMR so you don't have to exhaust internal resources to onboard new agents. Early in the process train their trainer then supply recordings for any of your internal training programs and let them do the heavy lifting.

Anticipate a learning curve
With a brand-new program, there will inevitably be a learning curve. Agents will need a little time to get used to scheduling guidelines, systems, and workflows. Onboarding clients should anticipate this and manage their expectations for call metrics in the first few weeks. During this time be certain to communicate opportunities for improvement, it will help your vendor to identify pain points and improve the program so you can see a bigger return on investment sooner.
Conclusion
Implementing the services of a third-party partner for your healthcare call center needs is easy if you have a firm grasp of your existing patient access processes. The keys to a smooth transition lie within your organization, beginning with an internal analysis that clearly defines the unique needs of your practice, patient population, and the collection or development of established methodologies, workflows, and guidelines that can be shared with your new service partner. Additionally, you must exercise early communication with staff and key stakeholders to keep everyone invested and aligned with the project goals. The right partner will leverage their experience and expertise to ease the burden of implementation, establish a solid foundation for ROI from the project onset, and even assist you with any change management challenges that arise along the way.
Good partnership rewards you and your patients.
Sources:
1. Brickman, J. (2017, April 5). How to get health care employees onboard with change. Harvard Business Review. Retrieved August 8, 2022, from https://hbr.org/2016/11/how to-get-health-care-employees-onboard-with change.

2. Faeste, L., Reeves, M., & Whitaker, K. (2022, March 4). The Science of Organizational Change. BCG Global. Retrieved August 8, 2022, from https://www.bcg.com/publications/2019/science-organizational-change

3. Kellogg School of Management (2021). Module 2: Organizing for Change [Online Course]. In E. Smith, Strategic Change Management: Lead and implement change in your organization https://www.kellogg.northwestern.edu/executive-education/individual-programs/online-programs/ol-scm.aspxffff
4. University of Lucknow. (2020, March 29). Management of Strategic Change. Retrieved August 8, 2022, from https://lkouniv.ac.in/site/writereaddata/UploadNews/pdf/C_202109271733207880.pdf
5. UBS.com. (n.d.). Richard H. Thaler. Nobel Perspectives. Retrieved August 8, 2022, from https://www.ubs.com/microsites/nobel-perspectives/en/laureates/richard-thaler.html
6. solonline.org. (2018, August 14). Peter Senge. Retrieved August 8, 2022, from https://www.solonline.org/peter-senge/
About Envera Health
Envera Health provides comprehensive engagement partnerships for healthcare organizations seeking to transform the patient experience and simplify the care deliver y process. Supported by a unique CRM-driven engagement center, we other a complete suite of patient engagement solutions custom-designed to improve operational efficiency and enable steady growth.