Consumer-driven Patient Engagement Campaigns
Whether promoting new services or reconnecting with inactive patients, health systems of all sizes can benefit from consumer-driven marketing campaigns. Envera Health offers customized patient engagement solutions designed to fit the unique needs of your practice and patient community. Through a combination of patient-centric technology and the implementation of a dedicated team of Patient Access Coordinators (PACs) we build, execute, and measure the success of your campaigns ensuring the highest possible ROI— with no need for resource-heavy implementations or internal process redesign.
Utilize Envera Partnership For
Scheduling

Education & Information

Referral Coordination

Event Registration & Rosters

Marketing Campaign Support

Patient Outreach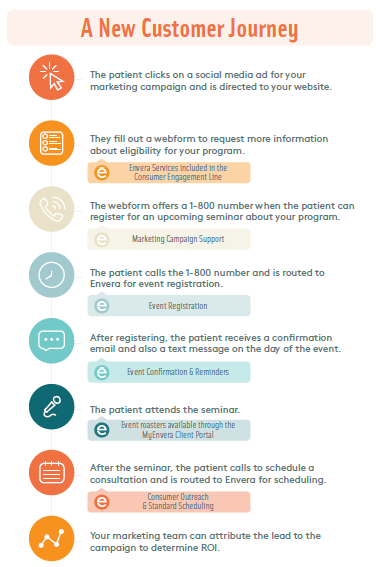 Is It Time To Execute a Marketing Campaign?
Considering the vast number of services offered and the diverse needs of your patient population, it can be difficult to decide when the right time is to begin a new marketing campaign. Having years of experience executing consumer-driven campaigns for our healthcare partners, across a variety of health system models, we have narrowed it down to three simple questions:
1. Has this (service/program) been deemed an institutional priority?
2. Is it driven by consumer choice and something they can shop for?
3. Does it have real access and low wait times (less than 2 weeks)?
If you answered yes to all three of these questions, then it is time to initiate a marketing outreach effort. Contact us today to discover how a comprehensive engagement partnership with Envera Health can help you better serve your patient population and meet your full market potential.
About Envera Health
Envera Health provides comprehensive engagement partnerships for healthcare organizations seeking to transform the patient experience and simplify the care deliver y process. Supported by a unique CRM-driven engagement center, we other a complete suite of patient engagement solutions custom-designed to improve operational efficiency and enable steady growth.